Do you struggle with digestive disorders such as Irritable Bowel Syndrome, Ulcerative Colitis or Crohn's Disease?
Do you sometimes feel chained to the toilet? Do you always make sure that there is a bathroom nearby?
Have you considered medications and surgery, but are concerned about detrimental side effects? Are you tired of doctors diminishing your concerns or telling you that there is nothing else they can do?
The Freedom to be You.
The Freedom to be Anywhere.
You Deserve No Less Than This.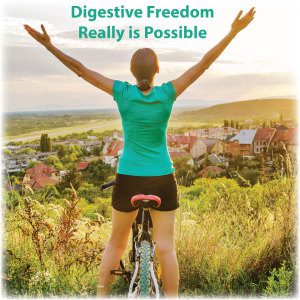 Good health starts with good digestion! Proper digestive function is crucial to achieving optimal health. When your body is not fully digesting and making use of the nutrients in your food or eliminating waste products it can give rise to many seemingly unrelated health issues. In addition to indigestion, gas, bloating, diarrhea and constipation digestive issues can also lead to systemic inflammation, allergies, fatigue, immune system dysfunction, cloudy-headedness, emotional instability, migraines and chronic pain.
The bottom line is this: if your gut is not happy then your body is not happy and you will likely find yourself limited in living the life you want to live.
At Heart of Wellness we have a entire collaborative team dedicated to helping you achieve digestive health and whole-body well-being. In addition to our team of naturopathic physicians we also have acupuncturists and a dedicated nutrition and lifestyle coach who will help you develop a customized plan to achieve all your health and wellness goals.
And all this is covered with only a small co-pay under most insurance plans.
A Team of Providers to Meet All Your Needs
Learn More
We accept health insurance for all our services.
We also have excellent self-pay rates if you do not have health insurance benefits that cover our services.
Not sure if your insurance covers our services? Call your insurance and then call us at 360-570-0401 and we will help you understand your benefits.
Phone
Non-emergency calls are answered during normal business hours. If you leave a message please include your name and phone number.
Clinic Hours:
Mon – Fri:  9AM – 6PM

EMAIL
Please include your name and phone number. We will call you during normal business hours to set up your appointment.